Socials: A Millennial's Ideal Spot in Mumbai
The only workspace in India where you can get #thandibeer, dope-coffee and high speed internet, all in one place.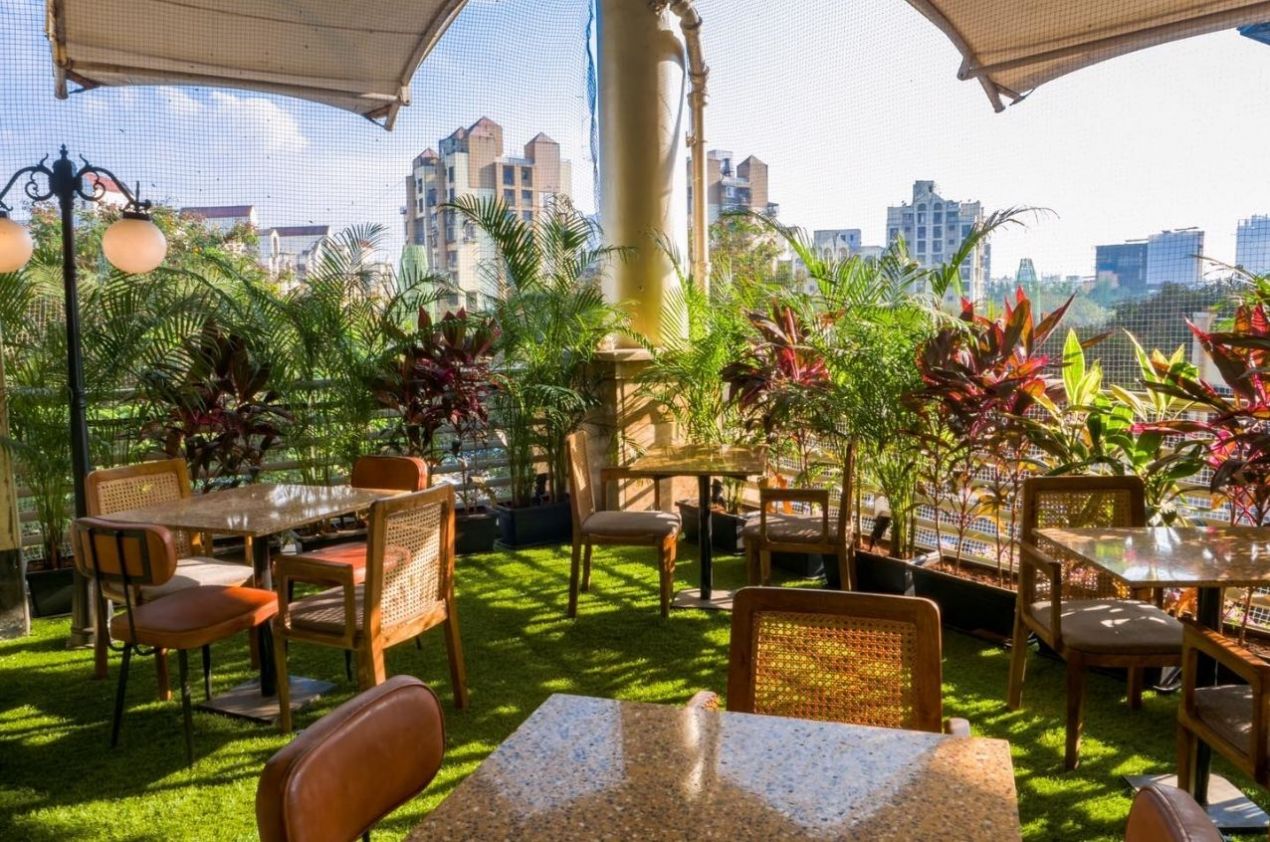 A journey through Social's - a millennials favorite spot in Mumbai.
The Socials chain is quite a famous one throughout India - and in Mumbai, it's a favorite spot for all millennials. Those looking for a chill time to unwind, or even those looking for a little bit of loud music and pub vibes usually find themselves at various Socials' locations across Mumbai. From young adults to an older generation - Socials is a place that caters to everyone.
A little bit of history…
Even though Mumbai locations are the most popular ones, the chain didn't actually start from Mumbai. The first Social that was seen across the country was in 2014 on Church Street in Bengaluru, the area being the heart of the city.
The chain was founded by Riyaz Amlani, CEO and Managing Director of Impresario Handmade Restaurants. The initial plan was for Social to be a cafe and a coworking space. However, it didn't take long for the place to become a hotspot that shone across the city during the night as well - turning itself into a pub.
Currently, there are 28 locations across India, with 12 of them in Mumbai itself.
The quirks and love of Mumbai Social
Socials in Mumbai are known for each and every detail they put out, from their food to their drinks, to their interiors, and even their bartenders. During the day, the places are treated like a coworking space and a cafe, and at night, all branches come to life to give customers a full-on relaxed experience.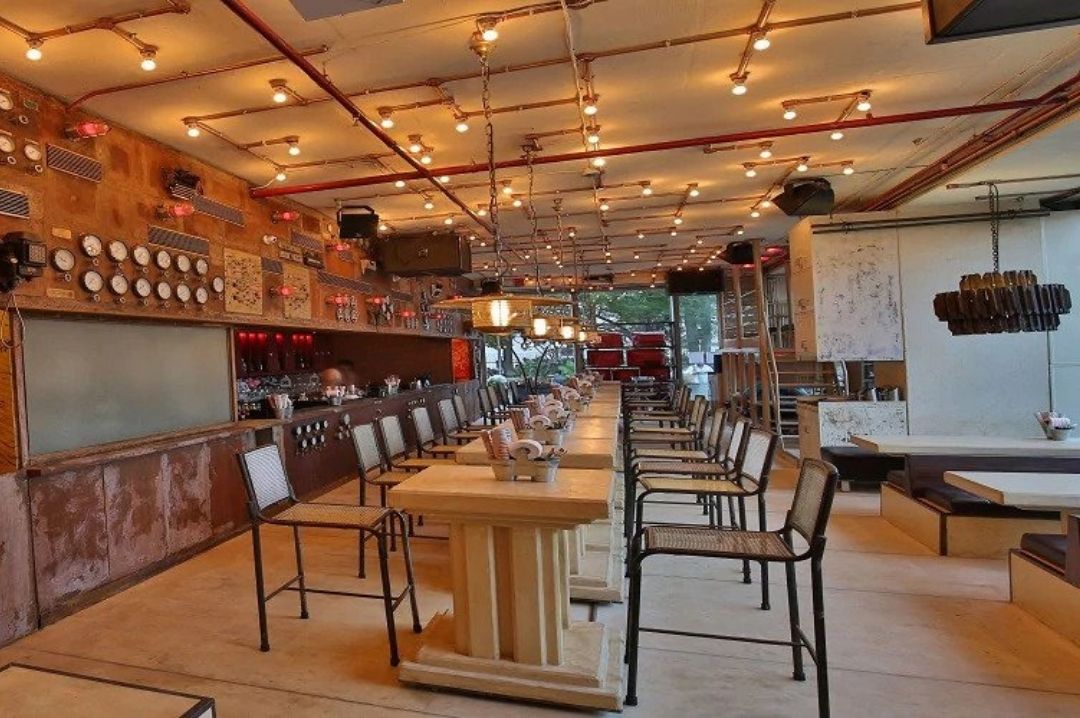 Capital Social. Source Zomato
Each branch has its own quirk with its interiors. According to Riyaaz, each of the branches have taken their inspiration from the area that they are located in. For example, Goregaon Social is exactly like the area. Crisp, professional, with woodwork and modern interior along with a smoke room covered in glass from top to bottom. It's a place for young professionals to unwind at the end of their day.
Another example is the well known Colaba Social. Colaba is known for its social life and drinking scene, and the Social branch has adapted the exact works from the area. The decor at Colaba Social includes woodwork pub-like tables and chairs, along with recycled alcohol bottles hanging from the ceiling.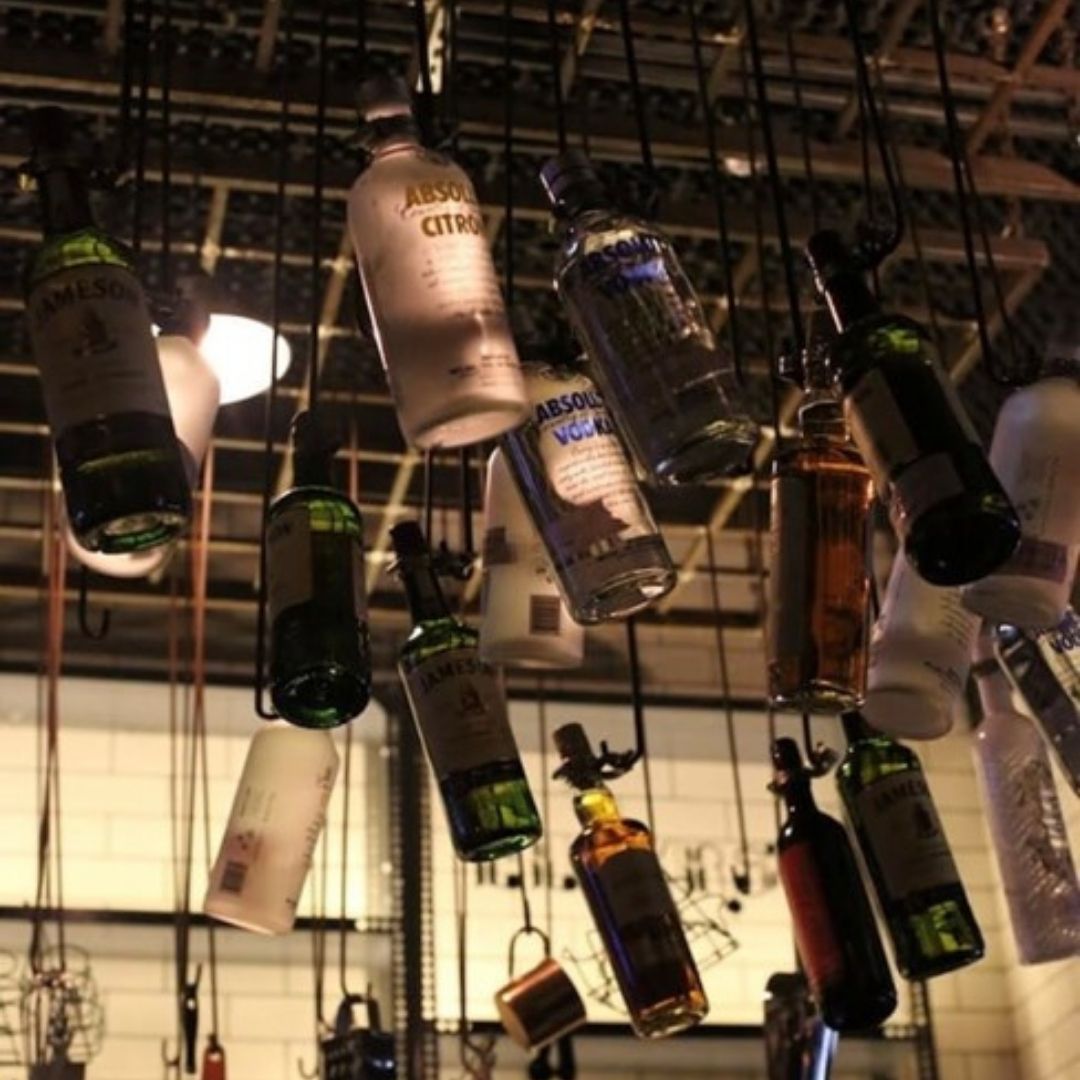 Throughout the day, the different branches of Social across Mumbai see a different set of customers as time goes by. Their customers range from people looking for a chill place to work, to office colleagues unwinding, to young adults hopping in to enjoy their evenings and nights.
More than anything else, it's the concept of Social that attracts consumers. Being a place with quirky interiors, a peppy vibe, and a place for everyone - Social is loved by both locals and tourists.
What's best…
Yes, Social is known for its way of working, but it is also known for its mouthwatering food and lip-smacking drinks. The bar at Social offers customers a wide array of cocktails, spirits, wines, and beer. With over 7 beer taps in all branches, Riyaaz has definitely created a vibe for beer lovers everywhere.
A fan favorite, when it comes to drinks at Social is their iconic Long Island Iced Tea (LIIT). The iconic Social LIITs are known for their array of flavors, and of course, their overly large test tube containers in which they are served. When you enter any of the Social branches, you're bound to spot at least 5-6 tables with a range of different flavored LIITS.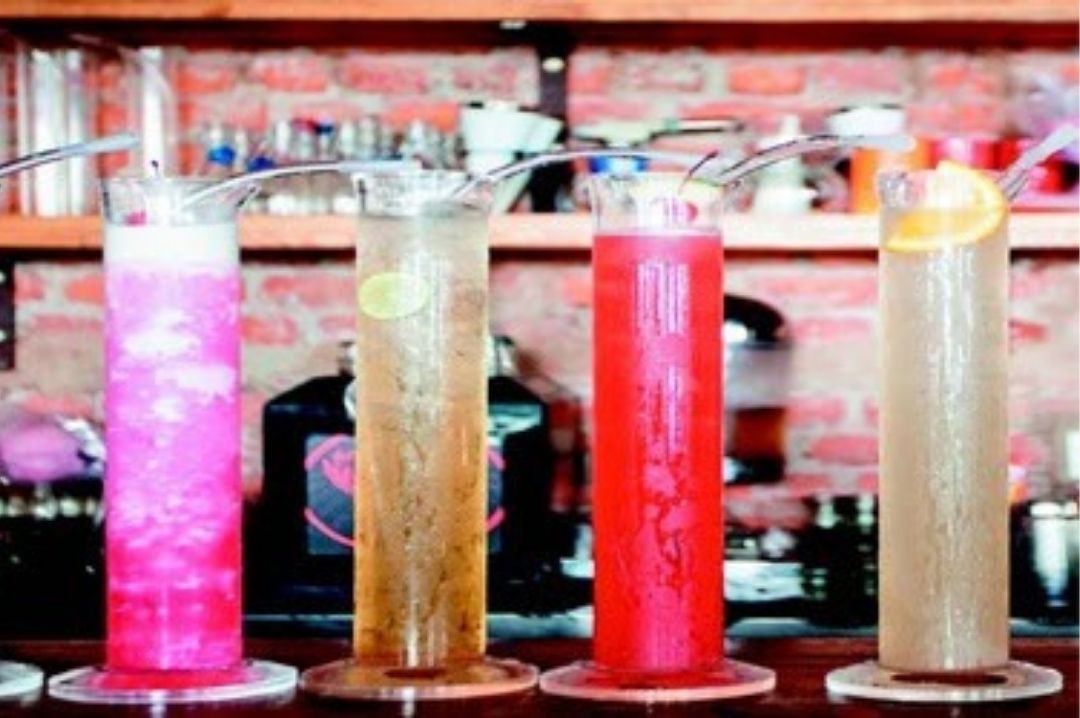 When it comes to food, Social is known for almost everything on their menu. From Indian treats to pizzas and burgers, the cafe+bar serves delicious food all year round. However, one of their most famous treats is the "Chakna Box".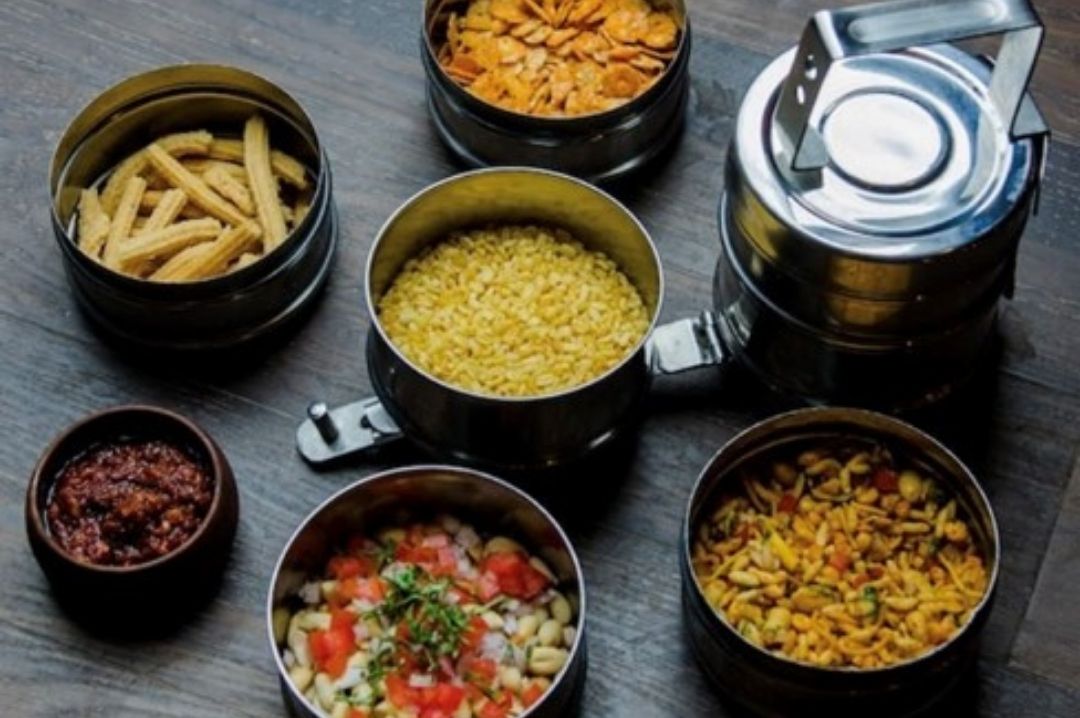 The Chakna box comes with 4 different types of dry snacks to munch on. The concept is for customers to choose their favourite "Chakna" to add to their box. Not only are the snacks tasty, but they also come in the cutest presentation. The Chakna box comes in an old-timey, steel-based lunch box which customers have to open up themselves to get the full experience.
Another main attraction when it comes to drinks & food is the #THANDIBEER campaign that Social holds out on a daily basis. With over 7 taps at the bar, and a wide range of both local and imported beer, the
Cafe+bar offers beer lovers a plethora of different beers.
Socials around Mumbai…
Mumbai has 12 branches of Social around the city, and all of them have their own charm.
Colaba Social - 24, Ground Floor, B K Boman Behram Marg, Apollo Bandar, Colaba, Mumbai, Maharashtra 400001
Palladium Social - 3rd Floor, No. 462, Palladium Mall, High Street Phoenix, Senapati Bapat Marg, Lower Parel, Mumbai, Maharashtra 400013
Vikhroli Social - Imagine Studio, CST No- 51/8, Next to Godrej One, Eastern Express Highway, Road, Vikhroli, Mumbai, Maharashtra 400079
Goregaon Social - R1, 3rd Floor, Next to PVR Cinema Oberoi Mall, Film City Rd, Western Express Hwy, Next to, Yashodham, Goregaon, Mumbai, Maharashtra 400063
Carter Road Social - 21, Gagangiri CHS Ltd, Sangeet Samrat Naushad Ali Marg, Bandra West, Mumbai, Maharashtra 400052
Versova Social - Plot No B, CTS No. 1311/2, Savitribai Jyotiba Phule Rd, Juhu Versova Link Rd, Andheri West, Mumbai, Maharashtra 400061
Khar Social - Rohan Plaza, 5th Road, Ram Krishna Nagar, Khar, Ram Krishna Nagar, Khar West, Mumbai, Maharashtra 400052
Capital Social - Ground Floor, Unit. No. 3 The Capital, G Block Rd, Bandra Kurla Complex, Mumbai, Maharashtra 400051
Powai Social - Delphi B Wing, Orchard Ave, Hiranandani Gardens, Panchkutir Ganesh Nagar, Powai, Mumbai, Maharashtra 400076
FunRepublic Social - Plot No 844/4, Fun Republic Mall, 3rd Floor, Opp To New Link Road, Andheri West, Mumbai, Maharashtra 400053
Vashi Social - F31 Plot No. 39, Inorbit Mall, 1, Palm Beach Rd, opp. Vashi, Sector 30A, Vashi, Navi Mumbai, Maharashtra 400705
Don't forget to follow Social on their Instagram @socialofficial
Header Image Source Facebook