One of the World's Best Whiskeys made in India
Explore the creation of India's first Single Malt.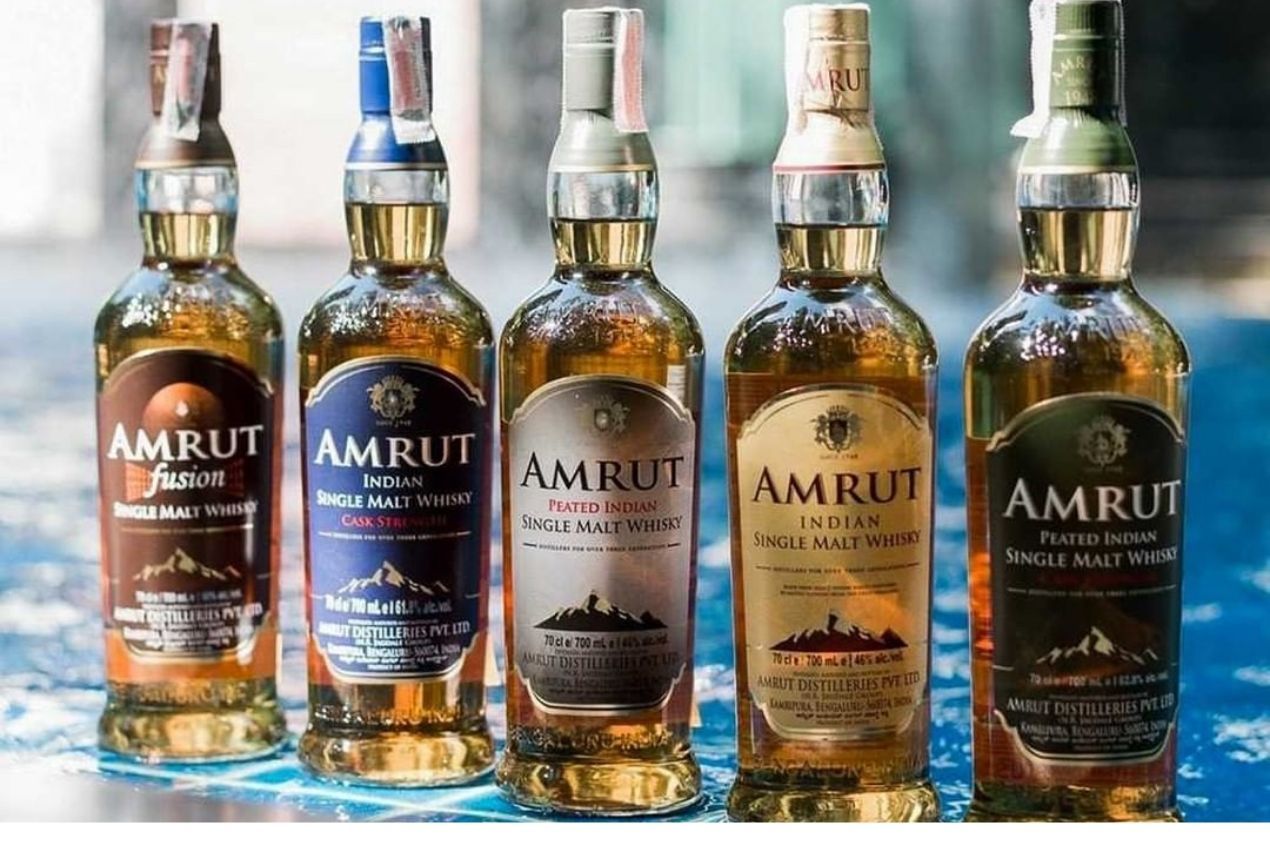 India is a diverse land, rich in culture and food. But did you know that the country is also home to the world's third-best whiskey? In 2009, acclaimed whisky writer Jim Murray rated Amrut Fusion (in which Indian barley is combined with peated barley imported from Scotland) as the third finest whisky in the world in his annual Whiskey Bible.
That being said, the distillery also boasts a range of other award-winning rums and whiskeys.
The Amrut Old Port Rum by Amrut Distilleries won a gold medal with 92 points at the recently held 3rd annual Bartender Spirits Awards 2021.
The Bartender Spirits Awards brings to you a list of top-quality spirits that deserve a spot on your to-drink list. The competition judges spirits across the parameters of mixability, balance and versatility, taste, mouthfeel and finish, package, and price. Medals are awarded to those spirits that meet the very specific judging criteria. The judging panel at the Bartender Spirits Awards includes top bartenders, bar managers, and buyers from U.S. restaurants, bars, pubs, and clubs. This year's judging panel consisted of experts from establishments like Buffalo Wild Wings, Madrone Art Bar, Blackbird Bar, Four Seasons Hotels and Resorts, and many more.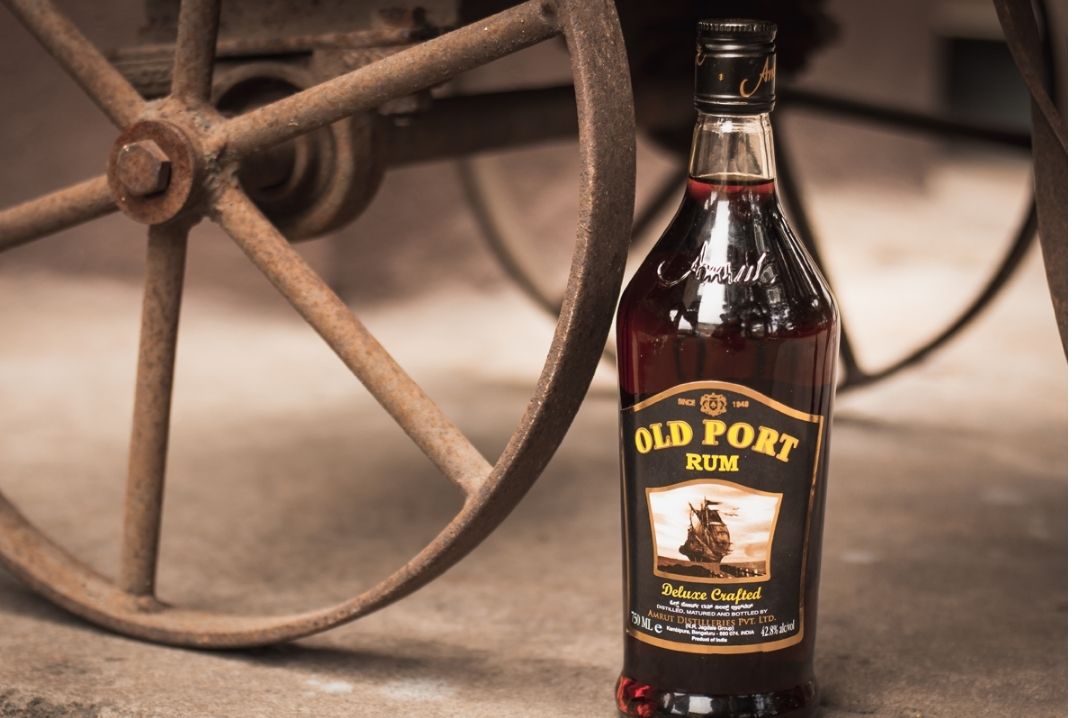 Amrut Old Port Deluxe Matured Rum, Source: Website
The gold medal winner, Amrut Old Port Rum shows sweet vanilla aromas and flavors of pistachio brittle and spices. It tastes silky, dry-yet-fruity, with a medium-to-full body and a crystallized ginger, nutmeg, and bubblegum spice-accented finish. Judges at the Bartender Spirits Awards described this rum to be 'approachable as a sipper, but can also be used as a mixer'.
The rise of Amrut Distillery
Amrut is a Sanskrit word that can be translated to 'nectar of god' or 'nectar of life'. While Amrut Distillery is now known for its award-winning whiskeys, they didn't start out that way. The distillery was founded by Shri J N Radhakrishna in 1948, and at the time, they were known to be contract bottlers for various alcoholic beverages across the country. Their first product line was introduced in the 1950s exclusively for the Indian armed forces.
The company discovered that the hot weather in India makes whiskey mature faster than it does in Europe or the United States. The fraction lost to evaporation due to aging was known as angel's share. Surinder Kumar, the master blender at Amrut Distilleries had also estimated that one year of barrel aging in India was equal to three years of aging in Scotland.
Amrut Distillery's first whiskey was introduced in 2004, by Rakshit Jagdale (Executive Director), the founder's grandson. The launch was in response to his father, Neelakantarao R Jadgale's challenge to his son Rakshit, who was working towards an MBA in Newcastle, to market an Indian single malt in the very home of spirits, Scotland.
Before officially launching in the Indian market, the Amrut Single Malt Whiskey debuted in Glasgow, Scotland on 24 August 2004, ready to introduce Indian spirits to the world. And later, in 2010, the whiskey finally made its way to the Indian market. Meanwhile, the distillery continued adding more whiskies to their international portfolio.
Single malts are made from a single grain at a single distillery (as opposed to blended whiskies, which combine cereals). Unlike other Indian whiskies that used molasses, Amrut was made using barley, sourced from the states of Punjab, Haryana, and Rajasthan. After the distillation process, Amrut whiskey is aged in "ex-bourbon" American oak barrels. Bourbon is matured in casks of virgin oak, which is then used by the distillery. Much of the flavor comes from these casks. Amrut currently has 4,000 plus barrels of whisky "sleeping" in four large warehouses.
Handpicked casks are selected for bottling Amrut Single Malt Whiskey and go through rigorous testing by master blender, Surinder Kumar who has been doing this for over 30 years. Once the team assures that the whiskey is perfect, Amrut is ready to be bottled. While bottling, the quantity and quality are tested by trained individuals appropriately. Lastly, labeling and boxing are done by hand.
What started as a company only producing for the Indian armed forces has now turned into one of the world's most renowned spirits brands.
The Amrut expressions
Today, Amrut Distillery is home to 28 spirits, including award-winning rums and whiskeys.
They have 5 frontline variants of whiskey:
Amrut Single Malt Whiskey
Amrut Peated Indian Single Malt Whiskey
Amrut Fusion Single Malt Whiskey
Amrut Cask Strength
Amrut Peated Indian Single Malt Whiskey Cask Strength
Their Rum collection includes:
Amrut Two Indies Rum
Amrut Old Port Deluxe Matured Rum
Apart from this, they have a range of limited edition expressions such as Amrut Greedy Angel's Chairman 12 YO, Amrut Double Cask, Amut Rye, Amrut Naarangi, Amrut Raj Igala, Amrut Kadhambam, Amrut Amalgam, Amrut Spectrum, and many more.
Beyond the Amrut Old Port Rum
Apart from the Amrut Old Port Rum, the Bartender Spirits Awards also crowned three other spirits from the distillery with a silver medal. The Amrut Fusion Single Malt Whiskey grabbed a total of 88 points, while the Amrut Classic Single Malt Whiskey took home 86 points, and the Amrut Two Indies Rum scored 81 points.
Amrut Fusion Single Malt Whisky - A fusion of barley and Scotland peat, the Amrut Fusion gives a rich and lovely aroma of barley, dark cherry, and vanilla. Complex and rich with warming baking spices on the finish.
Amrut Classic Single Malt Whisky (Amrut Indian) - From the core of their collection, Amrut Indian is bursting with the aroma of barley, grain, and a touch of honeysuckle. It holds a lovely flavor of sweet grain, char, and just a hint of golden apple. Complex and giving on the finish with light tannin and mild floral sweetness.
Amrut Two Indies Rum - With the golden amber color, the Amrut Two Indies Rum savors almond with freshly cut sugarcane, tropical fruits with a hint of ripened banana. It tastes like sugarcane with a dash of tropical fruits and honey and runs slightly dry on the palate.
The next time you're looking for a stellar rum or whiskey, try a bottle from the Amrut Distillery portfolio.
Header Image: The core range of Amrut Distillery, source: Instagram