Stranger and Sons: The Indian Gin Story
The wonderfully strange gin capturing the essence of India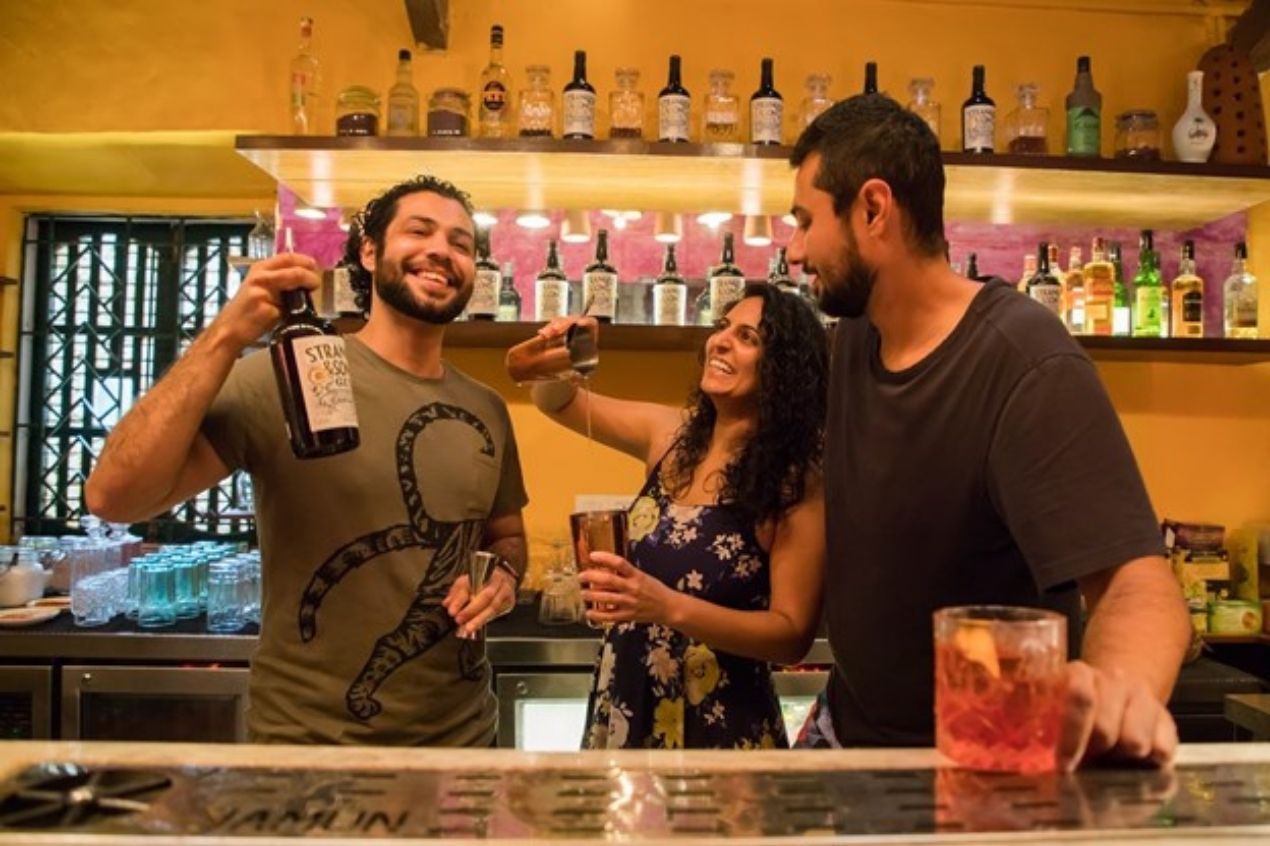 This gin produced in India has world-class influences; from maker Sakshi Saigal's time living in Barcelona, a distilling course in the Netherlands and finally the relaxed Portuguese vibe where it is distilled in Goa. Stranger & Sons capture the true essence of India by using botanicals native to every household - the citrus peel mix of the Indian Bergamot, Nimbu, Nagpur oranges & gondhoraj and spices like the local pepper, coriander mace, licorice, cassia and nutmeg grown in Goa.
Interview with Sakshi Saigal founder of Stranger & Sons Gin - Third Eye Distillery, Goa, India.
Tell us a little bit about yourself.
I was working in the impact investing sector prior to my MBA at IESE Business School. However, while living in Barcelona, surrounded by gin bars, it piqued my interest as to why India wasn't up to speed with gin even though the choicest of botanicals were found in every home's spice box. So I came back to Bombay to spearhead the idea of setting up a gin brand. After dabbling with the idea for a couple of months and of course drinking over 300 gins, my husband, Rahul Mehra, a founder at Gateway Brewing Co. and Svami drinks and my cousin brother, Vidur Gupta, immediately jumped on the idea. We attended a 10-day course on distilling in the Netherlands and ended up purchasing a still, that we imported to India. I would say it's our love for gin and all other spirits that brought us together to start Third Eye Distillery.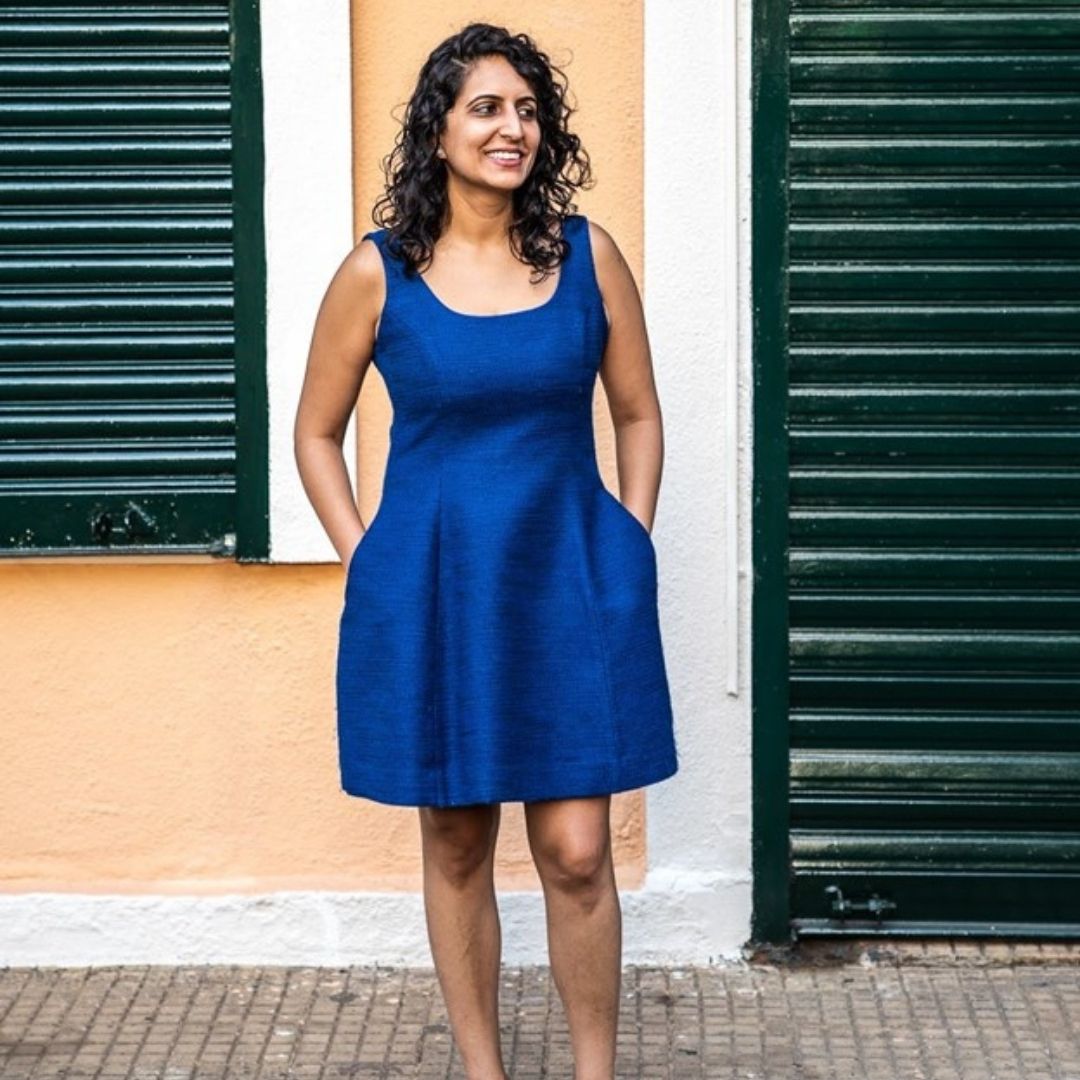 Sakshi Saigal
What made you start your distillery and found Stranger and Sons?
Many international gin brands speak of having origins in India, but one look at the back label, and it's clear it was made anywhere but India. The entire world looks towards India to a source not only botanicals but also to explore its provenance to fit their brand identity. That's when we knew it was time to build a truly Indian gin for local and global audiences. Add to this, India's diverse agricultural heritage and our country being one of the youngest nations with a wide set of people exposed to international cultures, we realized that this could be an opportunity to tell the story of a new India through an interesting medium- Gin, especially since this liquid has its own strange ties to India. As an Indian spirited gin, Stranger & Sons celebrates the agricultural diversity, entrepreneurial spirit and the rather wonderfully strange traditions of India in a way no other spirit can.
Why Goa?
Goa is a truly special place for most Indians where you'll find the cuisine, architecture and culture of India & Portugal all come together. The roads wind through green fields, the people speak Konkani with as much ease as they do Portuguese; colonial bungalows and local spice markets all co-exist with some of the most progressive hospitality and restaurant establishments. Among India's most fertile states, Goa was a natural choice for us for its lush expanse of spice farms. The mace, cassia bark, licorice and nutmeg that perfumes our gin are sourced from spice farms surrounding our distillery making Goa the beating heart of our narrative. Tucked away in a far-removed corner of Goa, you'll find Third Eye Distillery and us hunched over our still, throwing in our Indian botanicals. The Portuguese also taught us vinegar-based pickling and so this is where our love for pickling everything from tomatoes to grapes and apricots comes from. When we aren't distilling, you'll find us sitting on a porch sipping on some Gibsons made with our pickles!
What's in the name "Stranger and Sons"
Stranger & Sons is an Indian spirited gin that captures the essence of India in every bottle for a curious and discerning consumer; we celebrate the transmission of centuries-old traditions while recognizing the contemporary India we live in today. India is indeed land with a suffusion of diverse festivals, politics, religions, colors and cuisine with traits, practices and characteristics each more unique and peculiar than the other. The many quirks and eccentricities of all generations play a part in our daily lives. This was the inspiration that led to "Stranger", as we believe that India is wonderfully strange! The "& Sons", perfectly encapsulates and pays homage to the multiple businesses in India that are passed down from generation to generation. Launched by three family members, Stranger & Sons is a tribute to these businesses and the entrepreneurial spirit inherent in most Indians.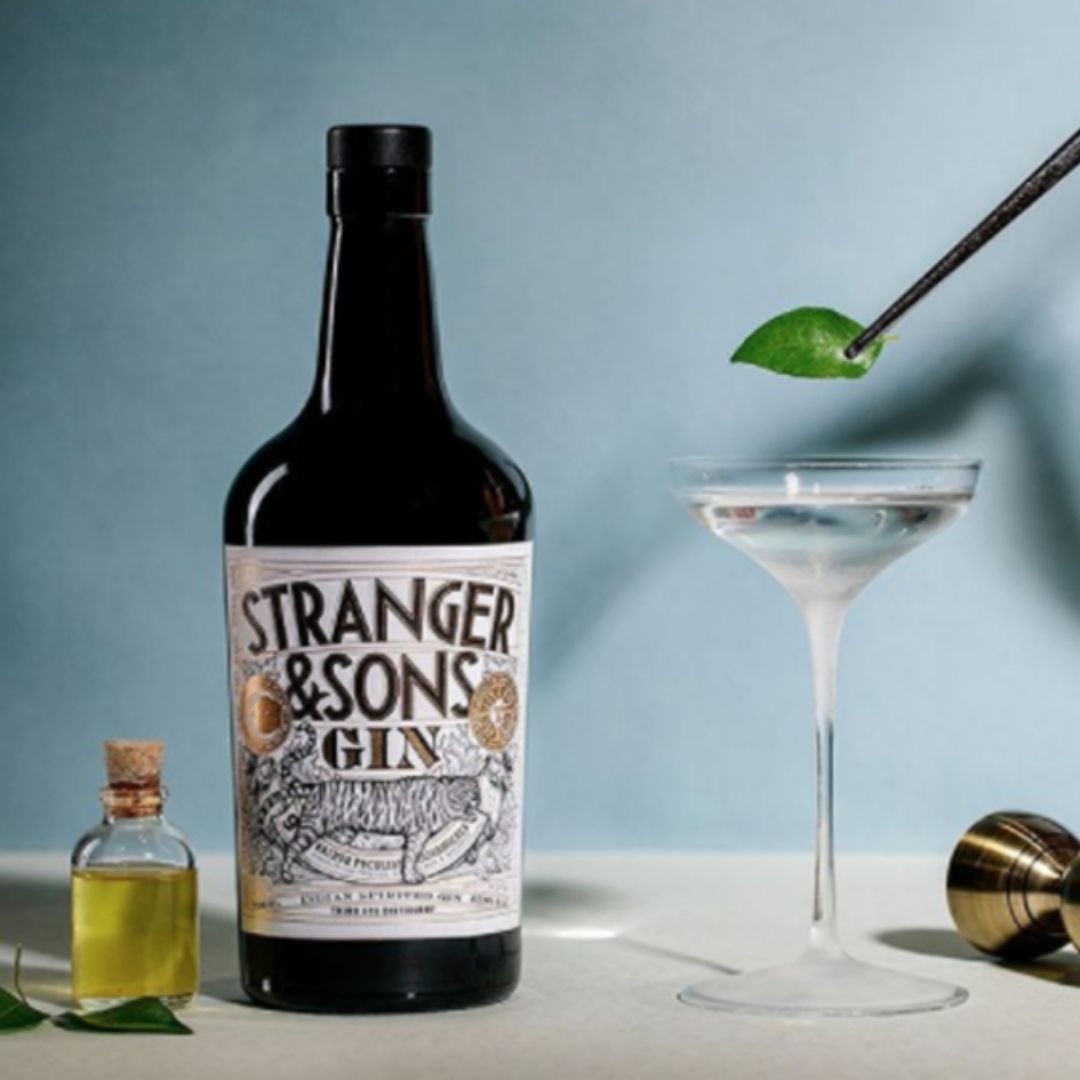 How did you develop the brand and what are its main principles?
After having tasted over 300 gins (we aren't complaining!), we realized we wanted to build a robust gin that precisely captures the essence of India and celebrates its agricultural heritage. What makes Stranger & Sons different is how our narrative celebrates the wonderful strangeness inherent in India and its diversity. We can never resist a good story and as Indians, storytelling is in our genes. Our story thus begins with a two-tailed, three-eyed mythical creature who chanced upon juniper berries hidden in the pocket of a sari blouse while roaming the Western Ghats. From our elusive protagonist, we inherited the recipe of our Indian spirited gin and our rather peculiar ethos, which governs how we prepare our drinks, how we convey their stories and where we show up. While the creature is the tangible heart of our story, there is another more abstract force at work. A whimsical force that is uniquely Indian and permeates all that we do. It stems from India's cultural diversity - the colors, the customs, the chaos and the peaceful co-existence of it all. The Stranger in our name is also a nod to this wonderful Indian strangeness that is the invisible essence in our bottles.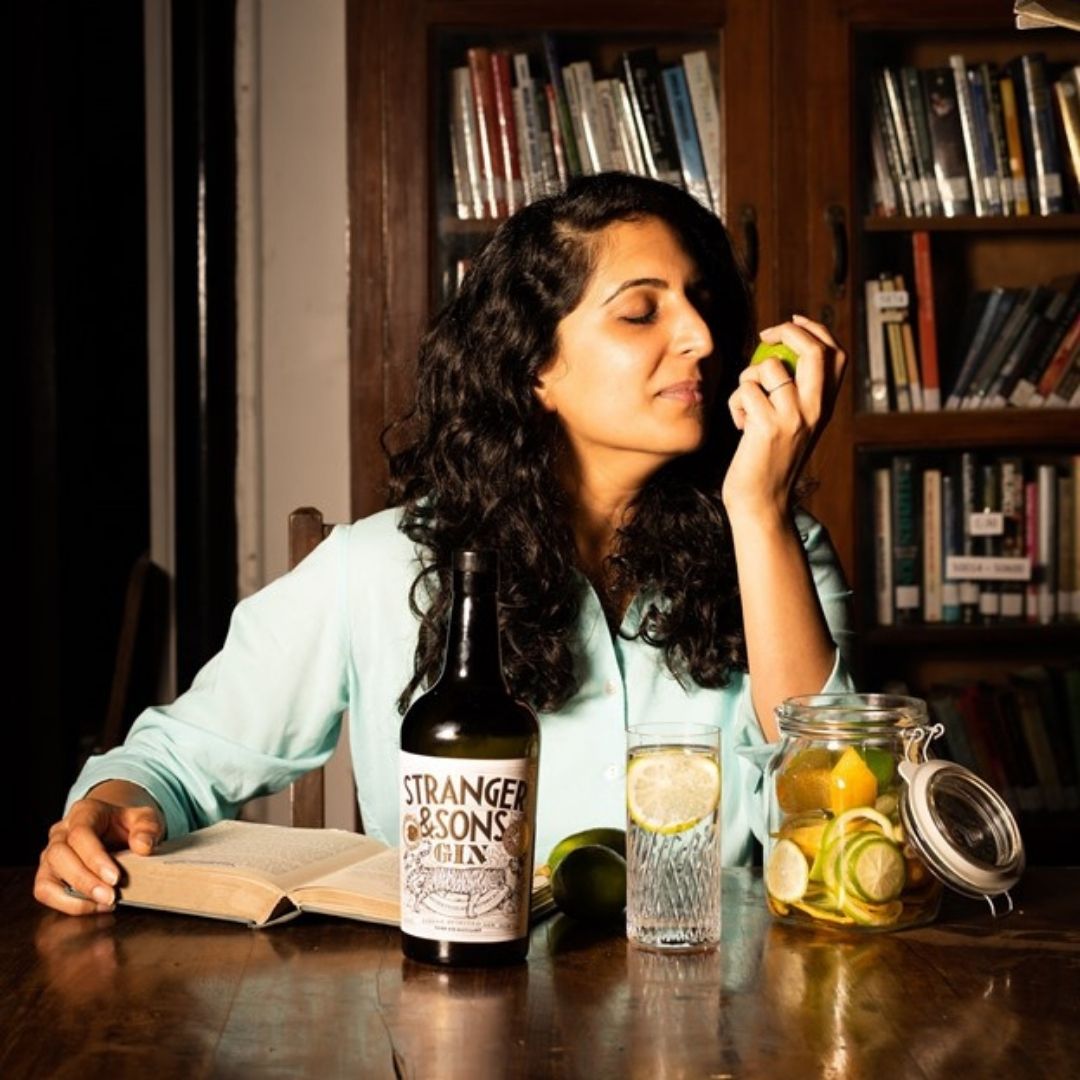 Bottle Shot of Stranger and Sons
How have you supported and marketed Gigglewater?
It's not easy to promote alcohol in India as one usually requires surrogate products like soda, water, CDs, etc. to market your liquor brand through mainstream media. Interestingly, word of mouth has worked really well for us in terms of creating intrigue and engaging the consumers with different activations. We enjoy storytelling which is worked into each of our highly curated events that allow consumers to connect with the story and the brand in a very organic manner while also enjoying a variety of our strange serves and Indian-inspired cocktails. Also, we work really hard in each of our markets in terms of events and activations to make sure that our brand stands out.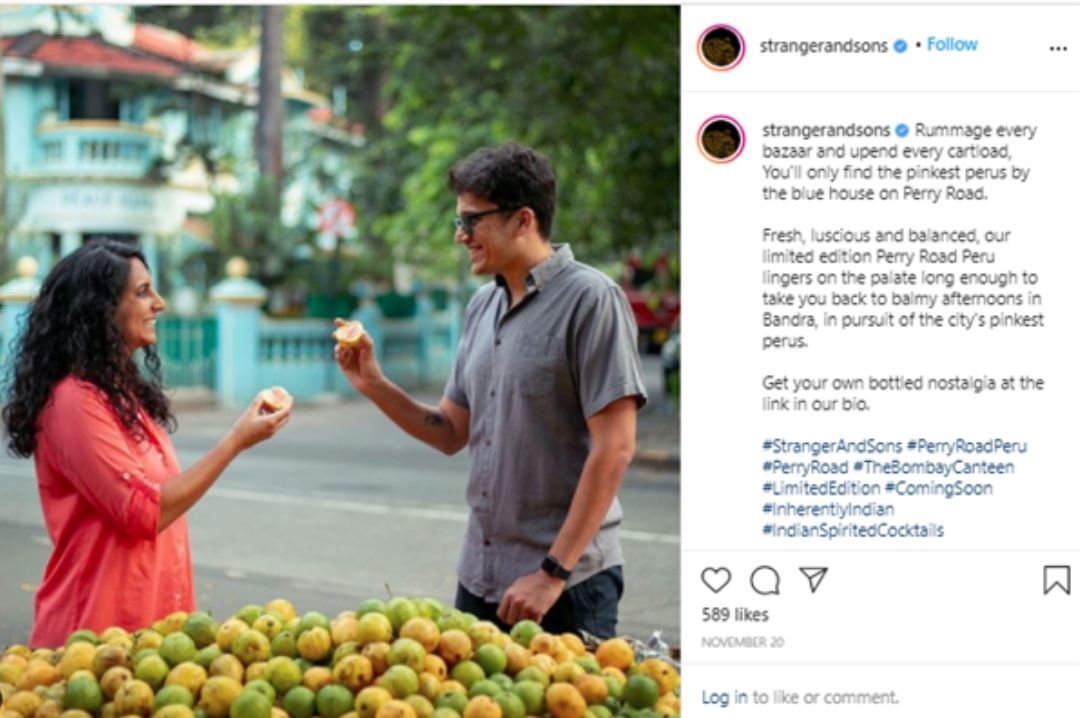 You can follow their Instagram account for stories and posts
How is the Indian craft spirits market doing...which cities do you see this phenomenon appear strongly in?
Craft brands have helped redefine the perception of premiumness. It no longer needs to be just about the 'bling' but much more about the authenticity, the craftsmanship, and embracing more creativity in terms of flavors and botanicals to produce something unique and groundbreaking. Gin in India is still a very niche market that is evolving and where there aren't just new consumers every day but new gins too. So over the next couple of years, we expect to see a lot more craft distilleries coming up in India as well as an increase in imported gins. The increasing number of new gins on the market would seem to pose a threat to established brands, but so far almost everyone is reaping the rewards of the gin renaissance. The definition of 'premium' no longer has to be old and stuffy: it can be contemporary and urban but must be crafted and presented in a superior way. I know that this time will define a new way altogether for how our customers choose products and how we attempt to capture their attention.
Where can people buy your Gin in Mumbai? Which bars have it?
We're available across 130 retail stores & 90 bars currently --The Table, Woodside inn, The Bombay Canteen, O Pedro, Cin Cin, to name a few. We're always working on interesting collaborations with them which are equally fun and rewarding, so make sure to look out for our special menu! Our most recent launch, India's first distilled cocktail - Perry Road Peru was a seasonal collaboration with The Bombay Canteen to grow the country's cocktail culture and introduce India's gin enthusiasts to an innovative expression uniting potent Peru and the 9 Indian botanicals in our gin.
What were the biggest challenges you faced to get your distillery running?
India is known as a mass liquor producing market where quality isn't key. Further, we are primarily a whiskey-drinking nation and alcohol is largely a taboo subject here. Though we know that our laws here are framed around prohibiting the consumption of liquor, they are even worse if you want to make high-quality liquor, which is why as a country we're known for the quantity or volume of things we produce rather than the quality of our products. So, there are a lot of challenges in setting up your own distillery for small-batch spirits in India.
If you look at the math and volumes behind the brands that fall in the above category, we could be considered by many to be doing something stupid and risky, but having said that we are very excited by the response we have received so far and have been able to get some early adopters. We are constantly trying to grow our customer base by ensuring that we keep them entertained through our events, social media channels and of course our Gin!
Where and how far you want to go with your Gin brand?
With Stranger & Sons, we introduced a Gin that showcased a rather peculiar side of India---something that had a robust London dry style backbone, but with a reimagined and unique expression of its own. When we traveled with our bottle to bars around the world and sent it for being judged at various awards, the response we got was quite phenomenal and it's because of this that we have been able to build an exciting entrepreneurial team, all of whom feel strongly about what our brand stands for. We are constantly trying to do our bit to make our distillery more responsible and sustainable, while also experimenting with other spirits and expressions of our gin that we can create in order to showcase the diversity that India represents to the rest of the world. We at Third Eye Distillery promise to kick start the craft spirit culture in India showcasing that India can make more than just its fair share of Whiskey.
Rahul Mehra, Sakshi Saigal and Vidur Gupta
What do you think has contributed to gin's resurgence in recent years in India?
People travel and that's always a big influence when you watch trends move from country to country. The gin tonic trend (at least the way we know it today) started in Spain which was always known for its wines and sangrias, but suddenly Spain became synonymous with gin & tonic. This spread to Europe and eventually made inroads into urban India by way of a small demand for imported gins. Gin & tonic is a classic easy to drink, easy to serve cocktail that works best for hot tropical climates and so it wasn't too long before the Indian market started to witness a steady rise in imported gins. Today, we see that a lot of Indian consumers are willing to try a good Indian product, the same goes for a good inherently Indian Gin. One of the main reasons I think Gin started trending is because there is so much one can do with it and how unintimidating it is as a spirit. And even though there is such a deep history of its origins, it still provides enough room for the distiller to experiment and make a distinct flavor profile. There is substance behind the hype, however, as there are many interesting gins being produced now.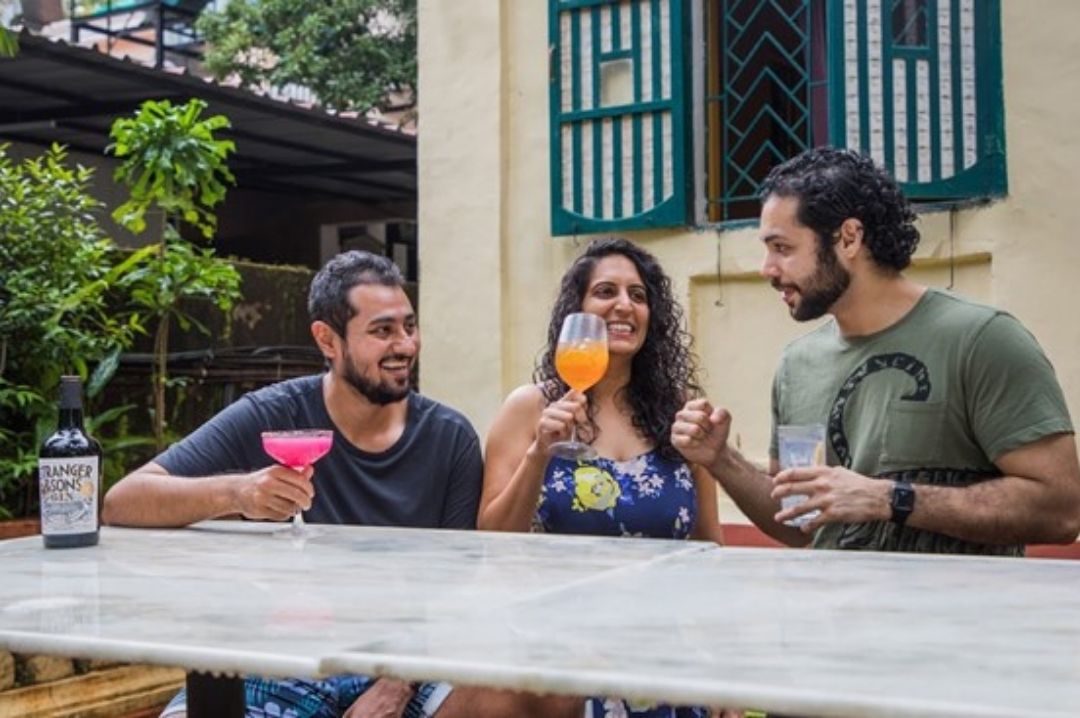 What makes Stranger & Son stand out from the crowd?
With robust and generous flavors, Stranger & Sons is a three-dimensional Gin. Our citrus peel mix of Indian Bergamot, Nimbu, Nagpur Oranges & Gondhoraj, representing different parts of the country, gives our gin a beautiful freshness on the front palate. The local pepper, coriander and mace give it a strong spiced middle while licorice, cassia and nutmeg give it a lovely, warm sweet finish. Ensuring that we are batch distilled, lends a soft smooth mouthfeel, allowing all of these intense spices to play in harmony. Cut in our precision iStill and rested for 5 weeks, the versatility of our gin provides bartenders a very solid foundation to any cocktail and a variety of flavors to play with and we always encourage people to do that.
At Stranger & Sons, we're mindful of our impact on the environment and one of our core commitments is to choose practices and partners that help us stay true to our sustainability goals. Right from managing the water waste at our distillery to employing local women to help us make jams, pickles & cordials from the remaining fruits that are used for every batch of Gin, we make sure to collaborate with brands that have social consciousness built into their DNA. Lastly and most interestingly, we recently won a Gold Outstanding at the International Wine & Spirits Competition in London. We are honored to be one of eight gins in the world to receive this prestigious award & what makes it really special is that not only was this the first time we participated but also with this global recognition, we are finally able to put spirits from India on the world map.
What are your key future plans?
Third Eye Distillery was never built as a one-product company right from the get-go- I don't think there's a single day that goes by when either one of us at our homes currently or Charnelle, our head distiller, isn't tinkering with some new method or product. We are always exploring new extensions and are currently experimenting with various ideas and we look forward to extending the Stranger and Sons gin family when the stars are aligned. Currently, we are available in Goa, Mumbai, Pune, Delhi, London, Singapore & Thailand. We're not a brand that is in a hurry to get to newer cities just to put it on our resume, we choose specific cities and then work really hard in each of them to make sure that our brand isn't taken lightly as we don't want to end up being another bottle on the shelf. So keep your third eye open to see when we will be available in your city!
Do you think Mumbai cocktail culture is going and what impact has the booming cocktail scene had on the gin market?
Today bartenders in India enjoy an unprecedented influence over the spirit that becomes a part of their bar and with the rise of maker culture, and an overwhelming emphasis on carefully chosen, high-quality ingredients, a restaurant's cocktail menu is fast becoming a significant contributor to why people visit it in the first place. At the forefront of this movement are highly sought after bartenders, whose cocktail programs seek to capitalize on the public's desire for exciting and distinctive drinks. This will definitely change the gin consumption style in India but the Indian audience needs to be motivated & keen to learn about the finer nuances of distillation. Globally, bars are moving back to the classic cocktails, but it will take some time to reach across India because it's difficult to find liqueurs like Chartreuse or vermouths that are essentials for any bar serving cocktails. As for appreciating any gin, one should definitely try it neat, with a cube of ice or even in a Dry Martini. With Stranger & Sons, we make a great Gibson with a pickled onion - don't miss out on these cocktails at our next bar takeover in Mumbai.
Challenges you faced in lockdown?
Being absolutely aware, that it has been an extremely tough phase for a lot of startups including ours, we did lose sales in the first month, but thanks to our team's sheer creativity and persistence, we were agile enough to immediately switch gears and move most of our communication to online engagement with trade as well as our consumers. We successfully hosted two house parties on Instagram where all the proceeds went towards NRAI's "Feed the Needy" initiative. So we are constantly ideating & working on new ways to engage with our audience and support the industry. We've also started making small but important improvements on various aspects of running a business that ends up being ignored during the day to day workings of a startup. Having said that, we haven't had a single idle day, not one, and the moment the lockdown got lifted, the sales jump we experienced ensured that we more than made up for time lost.